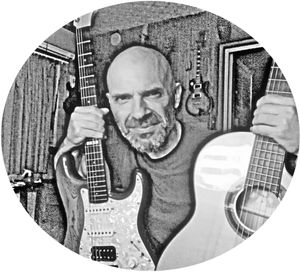 Guitar Lessons
Discover musical knowledge, express yourself, improvise and be creative, playing the guitar !
All genres taught (classical, acoustic, electric), fingerstyle or pickstyle for beginners and advanced players.
The classification of the curriculum helps the ranking of students into the correct grade. Thus, the speed of progress depends on the time and quality of practise of the student himself.
The teaching methods are based on international standards, with the aim of knowledge, aesthetics of sound and repertoire development, according to the chosen style.
The music theory lessons, always with an emphasis on praxis, leads the student to a deeper understanding of music, opening horizons in improvisation and composition.
Preparation for RGT exams. 
Skype lessons
The lessons via Skype are very popular as they provide the advantage of the private tuition from the comfort of your home. The time, and the course content is more flexible and we can make a plan aiming in your area of interest: Repertoire, technique exercises, theory, harmony, scales, improvisation, chord - scales relationship including diatonic and non-diatonic chords etc.. 
 For more information please contact: guitarchatzopoulos@gmail.com